Aging, being overweight, pregnancy, and obesity can stretch out muscles that underlie and support the organs in the abdomen, permanently changing the shape of the stomach and softening the elasticity of the skin on your abdomen. In some cases, the stretched muscles and skin can result in a pouch-like bulge or even a hanging apron of skin that cannot be corrected with diet and exercise.
Tummy tuck (abdominoplasty) can dramatically reduce a protruding belly, improve the way your clothes fit and look, and make you look and feel younger.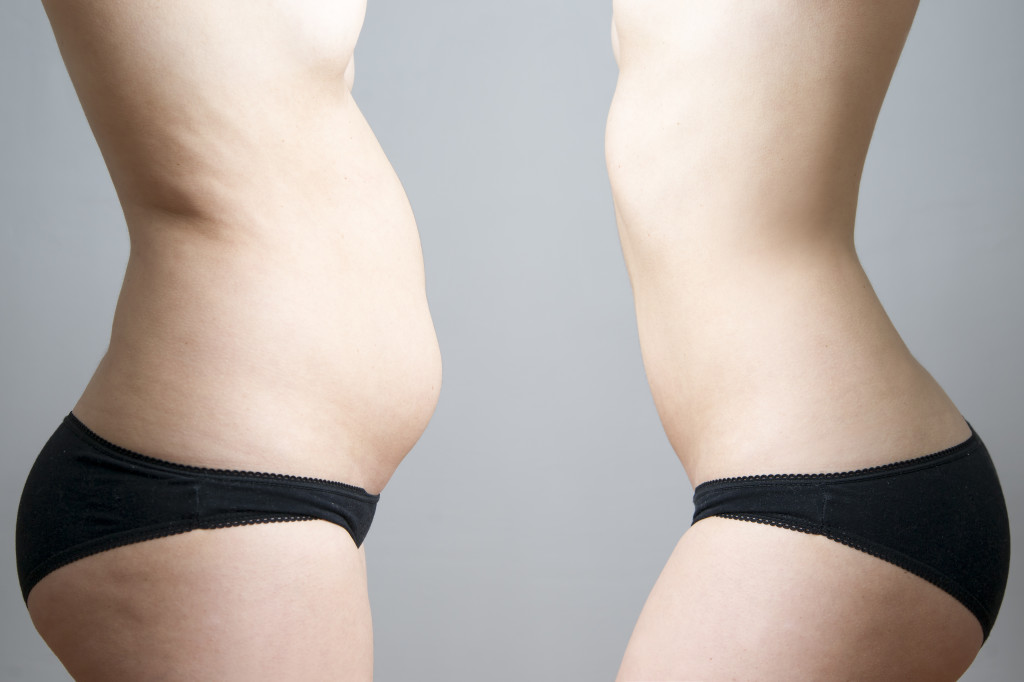 Click here to see Tummy Tuck Before and After Photos
What is a tummy tuck?
A tummy tuck is a surgical procedure that involves tightening loose abdominal muscles and removing excess fat and skin of the middle and lower abdomen.
A full tummy tuck is a more involved, and more powerful option that will improve the contour of the upper and lower abdomen.  This involves not only removing the excess skin, but also tightening the underlying muscles.
A mini tummy tuck is a smaller more limited operation. This involves removing the excess skin from the lower abdomen, but the belly button and the underlying muscle are not altered. While the results are not as profound as in a fully tummy tuck, this operation can give excellent results in the right patient.
In either case, the operation is primarily performed as an outpatient operation in a surgery center or hospital.  Some patients may benefit from an overnight stay, but it is not necessary in most patients.
Incisions for tummy tuck are generally made across the lower abdomen and around the umbilicus. The plastic surgeon then tightens the muscle fascia (the strong layer around the muscles) with multiple sutures; this improves the tone and contour of the abdominal wall and creates an "internal girdle". In some cases, your surgeon will use liposuction to remove excess fat and improve contours of the abdomen. Excess skin is then removed and the overlying skin is smoothed and stitched back into place over the flattened stomach area. In many cases, the surgeon will reposition the belly button for a natural, youthful result.
Who can have a tummy tuck?
The best candidates for abdominoplasty are women and men who are in reasonably good shape but who have excess stomach fat and skin that cannot be corrected with weight loss and exercise.
If you are in process of losing weight, you should postpone having a tummy tuck until you have achieved a healthy weight for your height
If you plan to get pregnant, you should postpone a tummy tuck because the vertical muscles that are tightened during the procedure can separate again during pregnancy 
To create an overall polished appearance, you may combine a tummy tuck with liposuction, lower body lift, buttock lift, and thigh lift.
Talk to your plastic surgeon about your desires, expectations, and concerns. He or she will tell you what you can expect and explain limits and risks of the surgery. After reviewing your medical history and explaining the tummy tuck procedure to you, he or she will examine your abdomen and tell you which procedure will work best with consideration for your overall body contours.
After Tummy Tuck
When your procedure for tightening your tummy is complete, dressings will cover your incisions. You also will wear an elastic bandage for a short time to help minimize swelling and provide extra support as you heal. Drain tubes will usually be placed under the skin for a few days. In most cases, stitches used for tummy tuck are dissolvable and do not need to be removed. Your surgeon is likely to ask you to sleep sitting up for the first few nights to avoid straining your incisions.
As expected, you will have some swelling, bruising, and mild pain for a week or 2 after your procedure. Prescription or over-the-counter medications can help manage your discomfort.
Most people return to work and relatively normal activities within 2 to 3 weeks after a tummy tuck. Strenuous exercise can be resumed at about 6 weeks after the operation.
You will have an immediate, bisible improvement, but because of the swelling, you won't be able to see the final results immediately after surgery. But in a few weeks, when all the swelling subsides, you will begin seeing the amazing results of your tummy tuck, including a flatter stomach and trimmer waistline.
Although the scar from a tummy tuck is long and will be visible, it is carefully placed low on the abdomen within the bikini line so that most clothing, including swimwear, conceals it.
Results from a tummy tuck are long lasting if you maintain a stable weight.
By Dr. Gordon Lewis | Richmond, VA